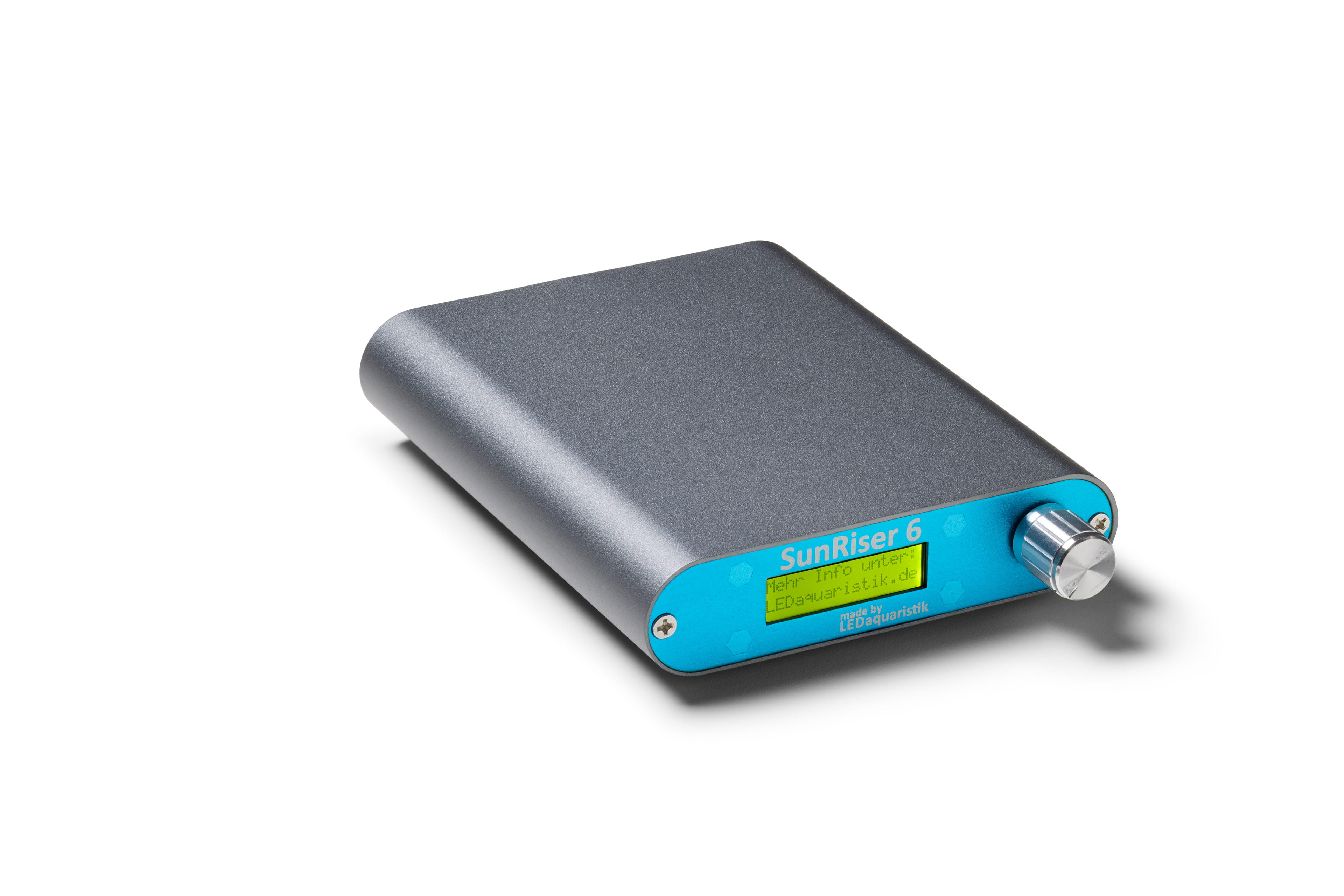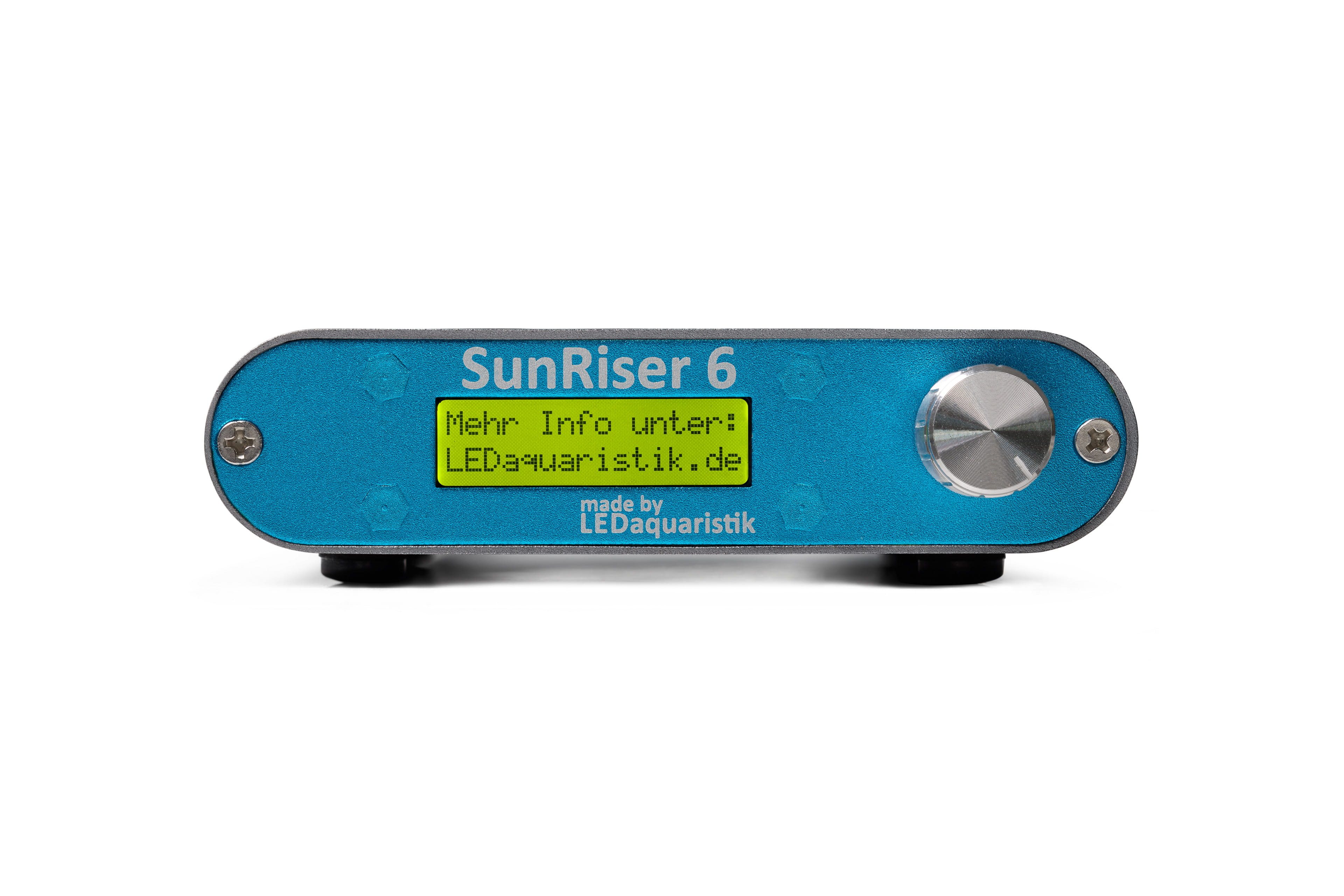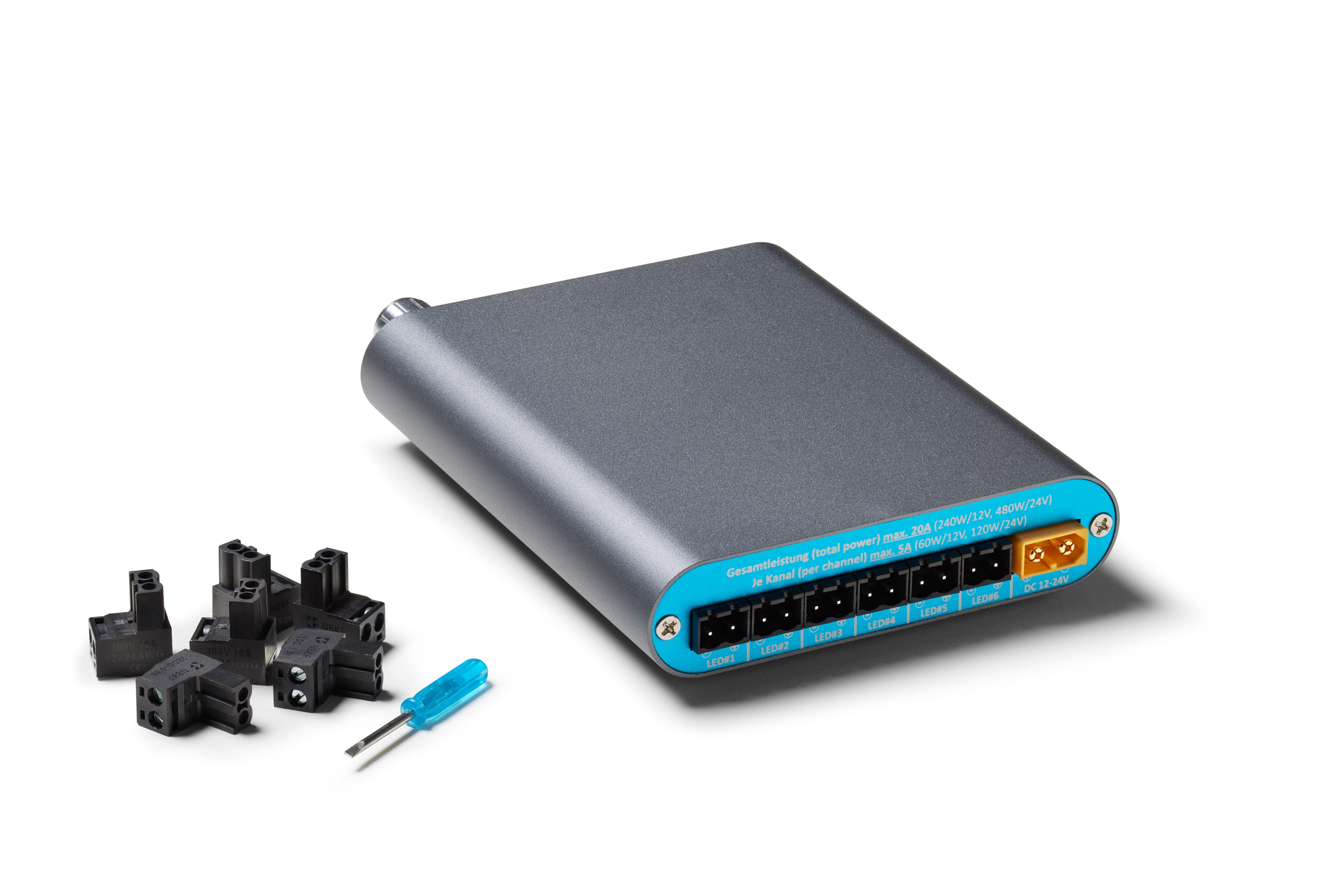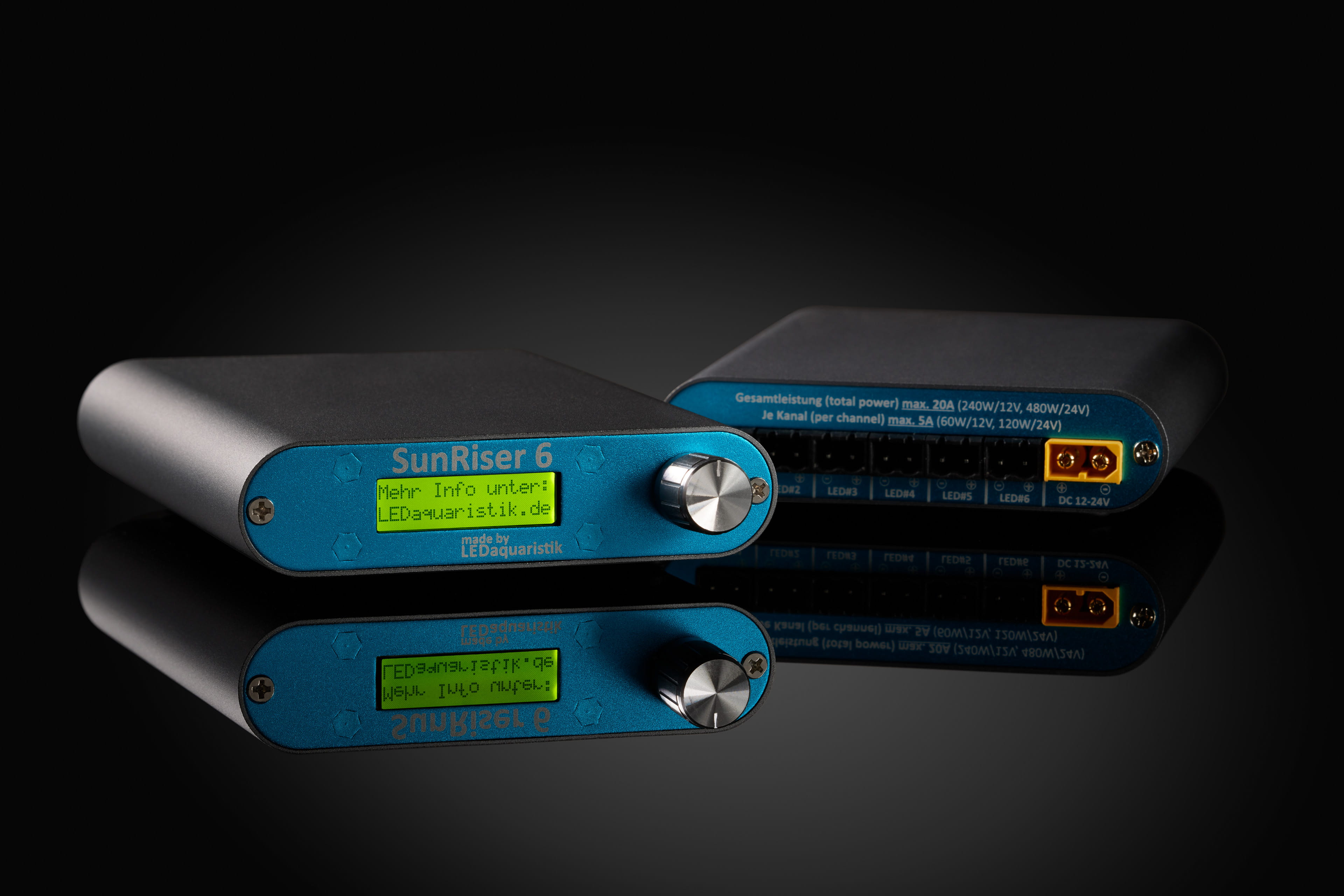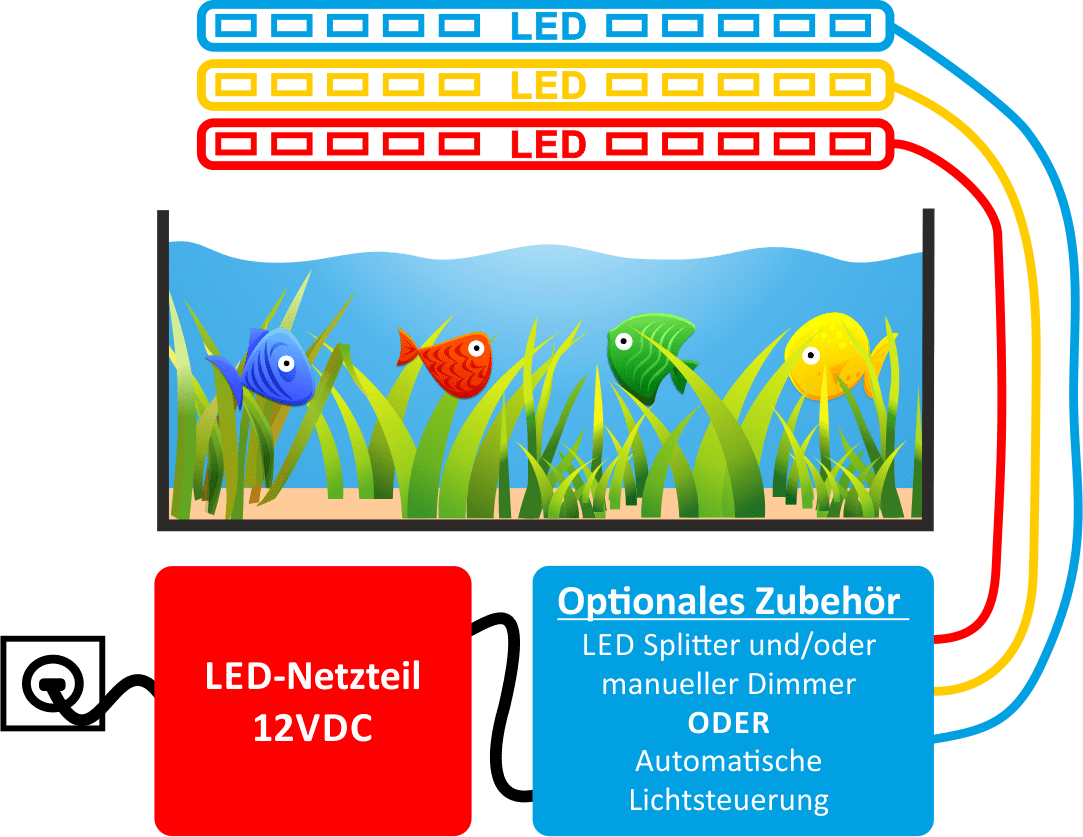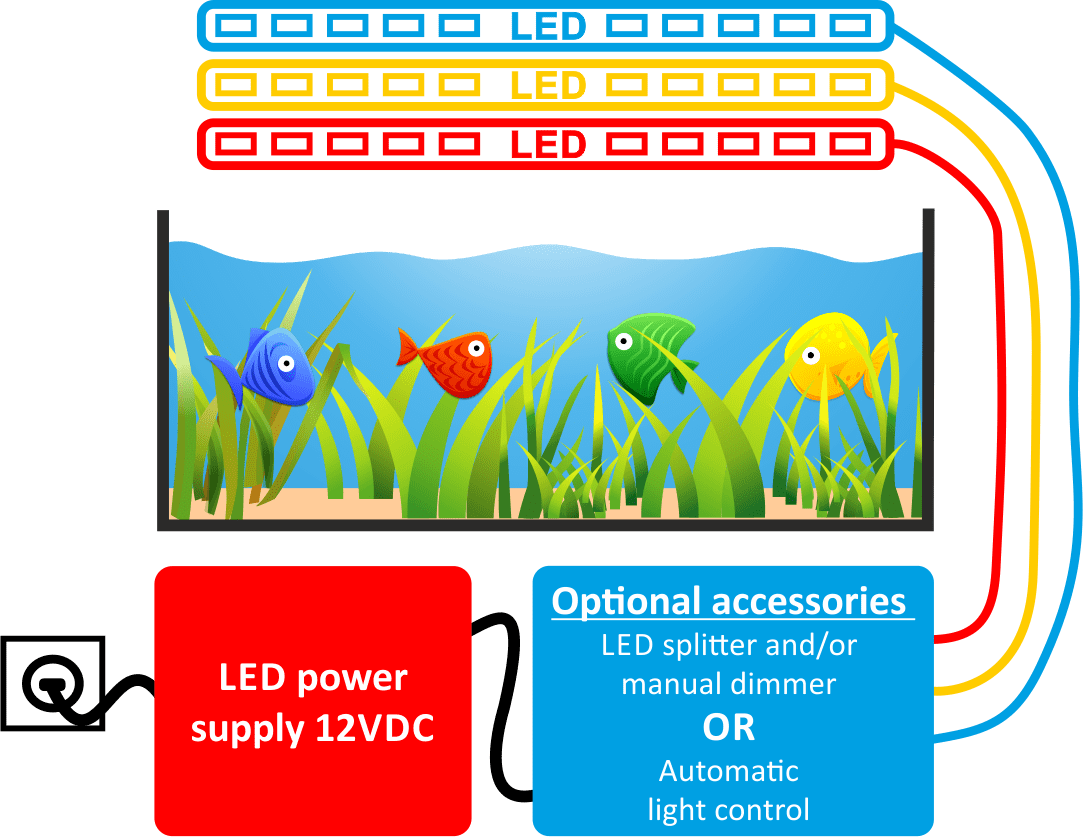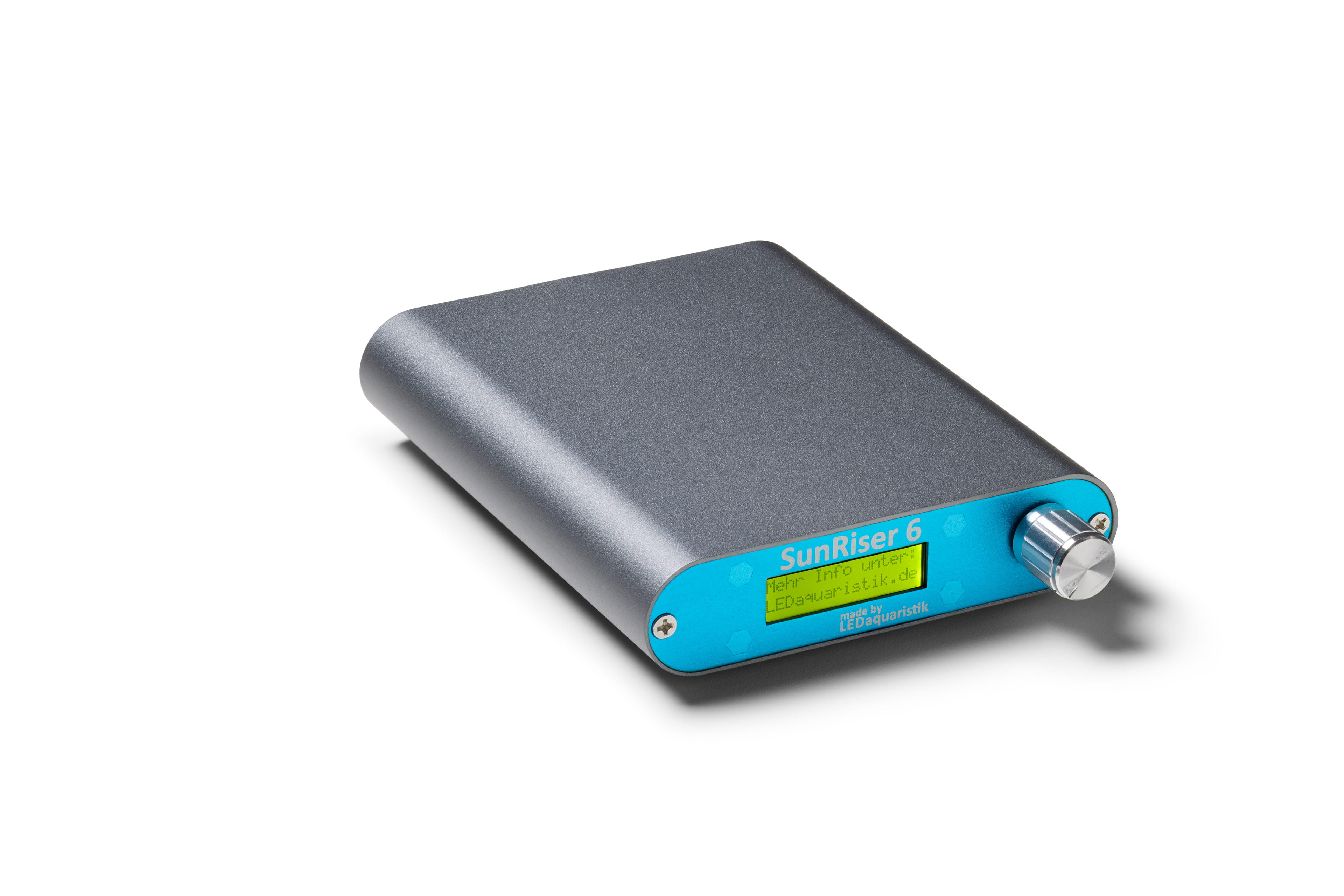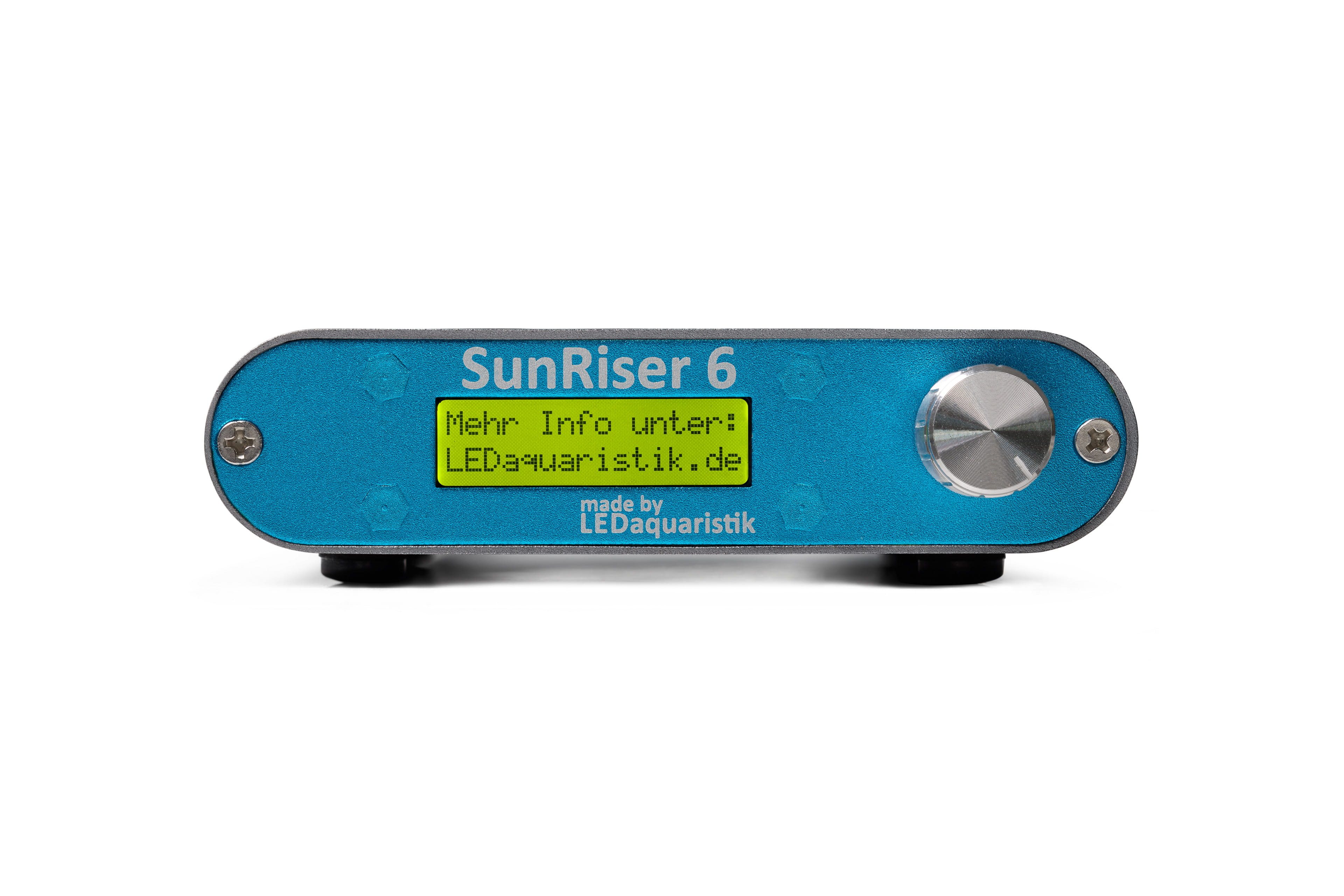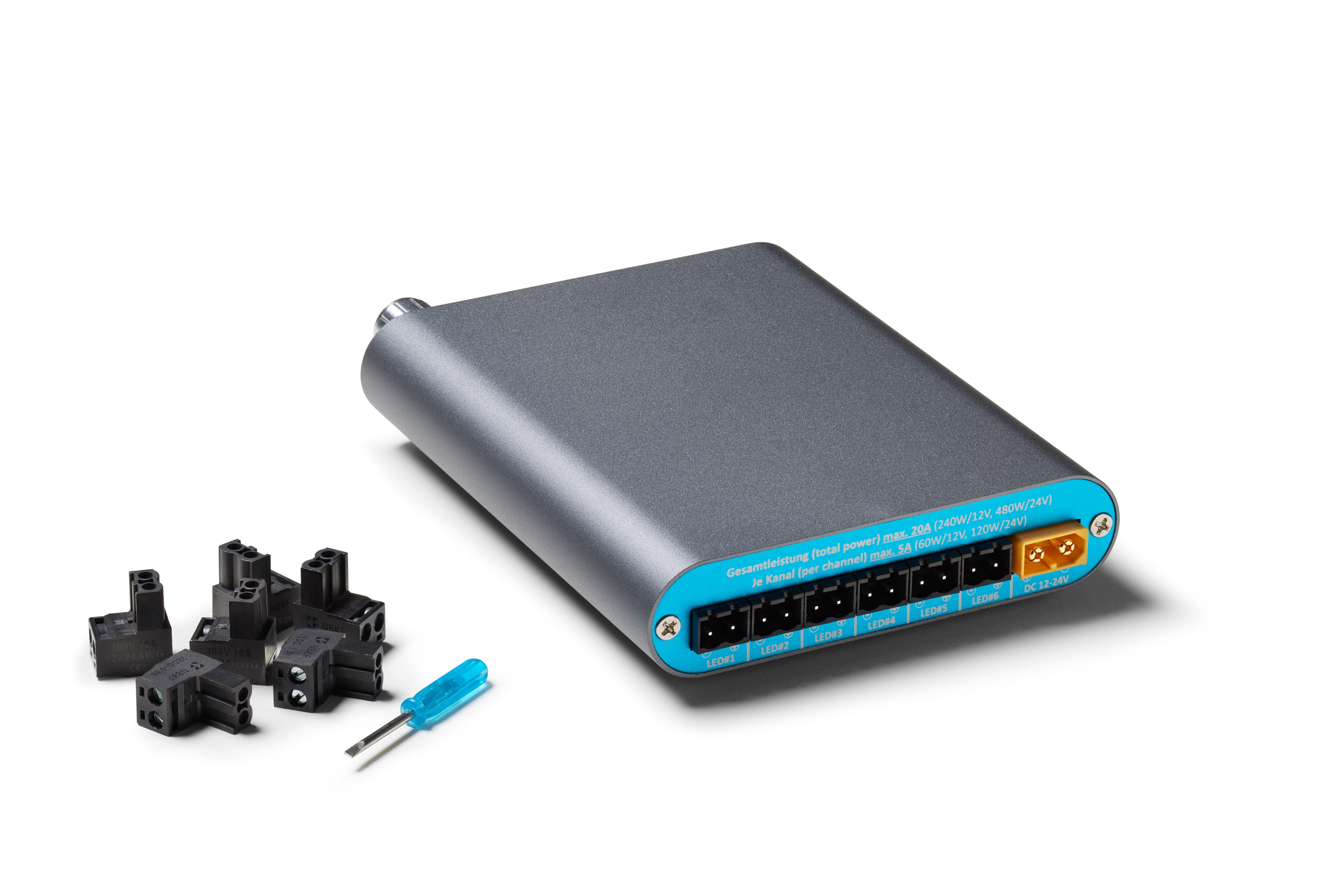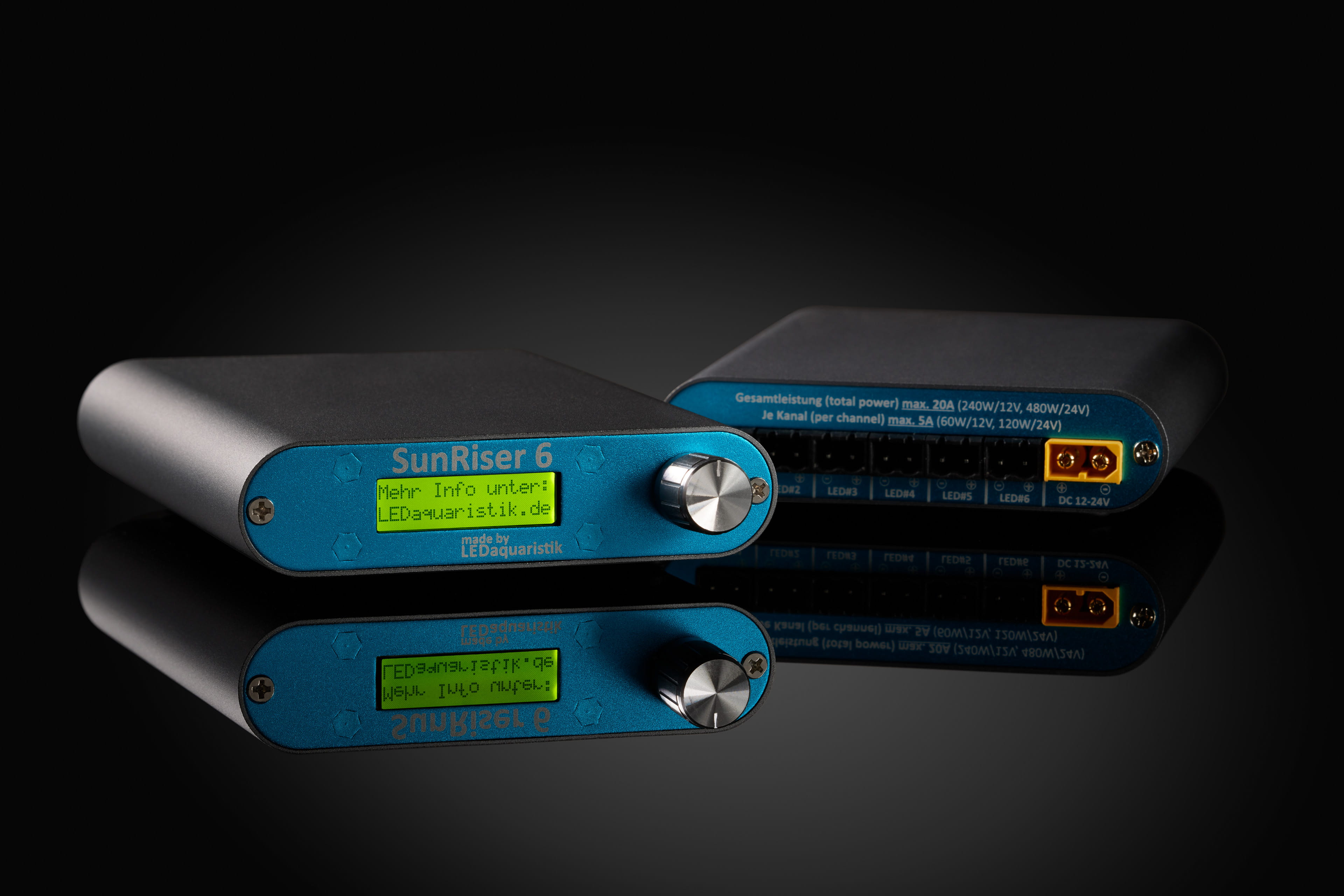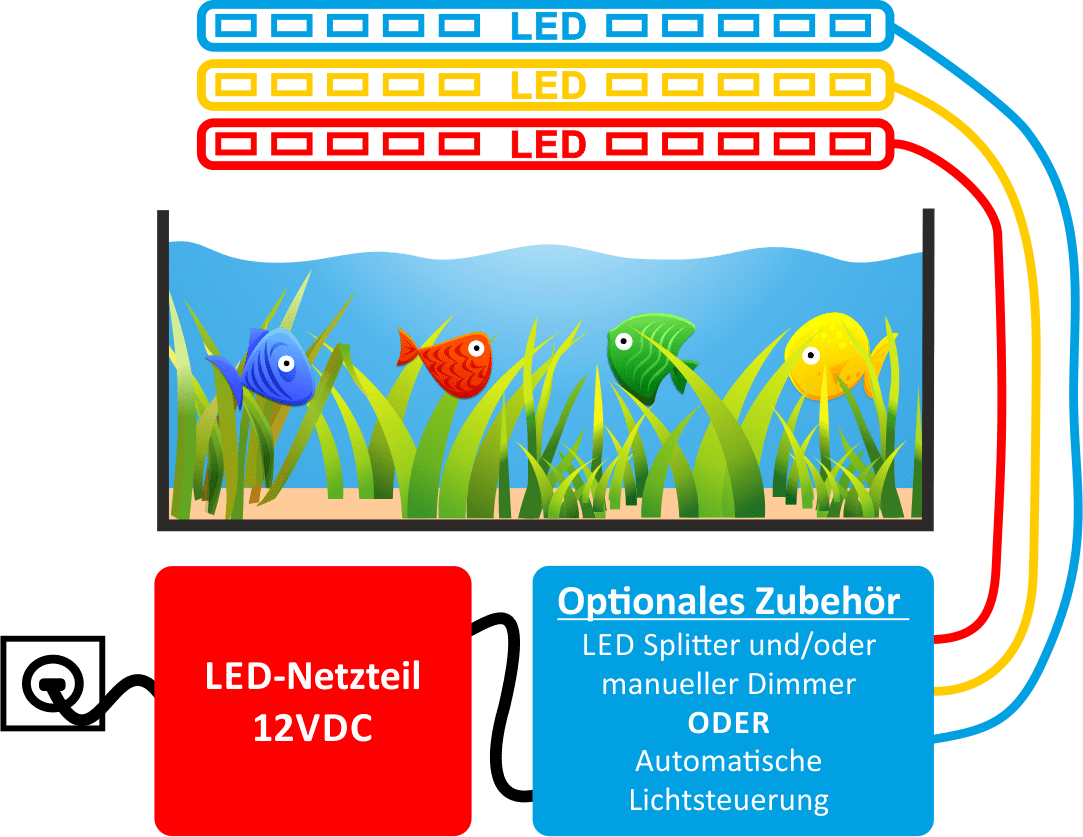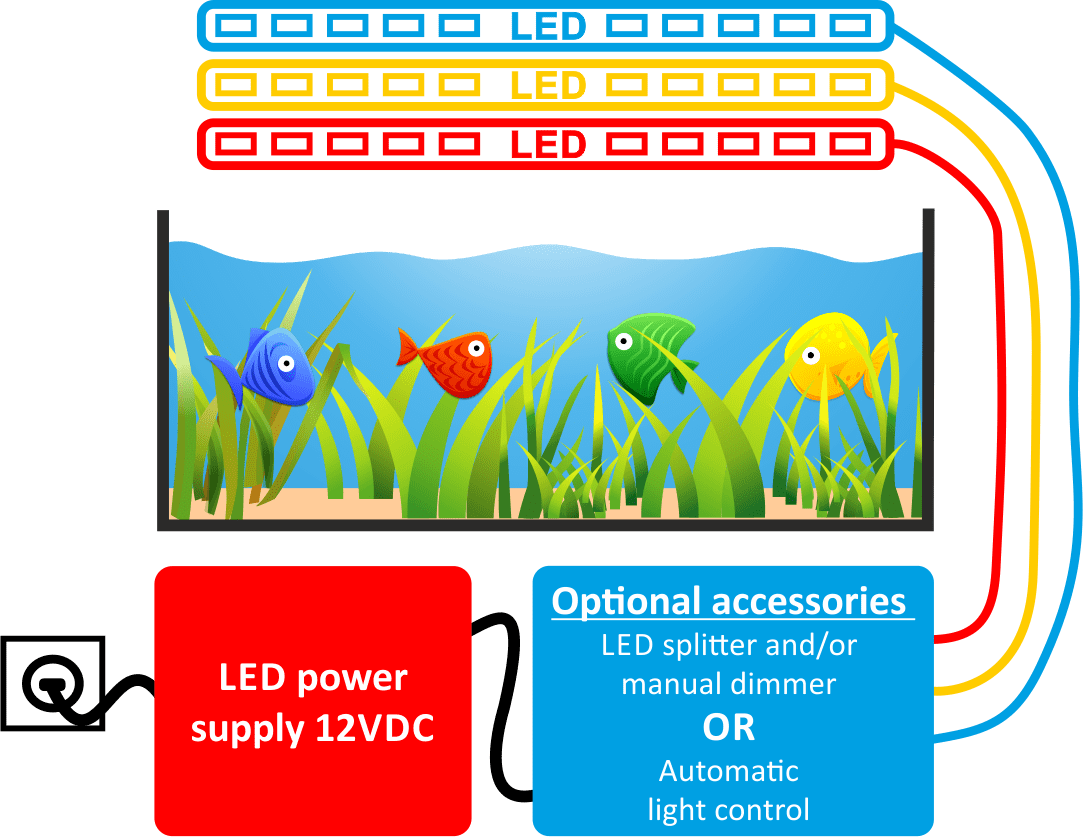 Bring your aquarium to life! Discover gentle sunrises and sunsets, individualized scenarios, and energy-efficient control in one device.
Available, delivery time: 1-3 days
Product information "SunRiser 6 dimming control and daylight simulation"
SunRiser 6 - Bring Your Biotope to Life!
Designed by LEDaquaristik, the SunRiser 6 Lighting Control is a cutting-edge solution for authentic daylight simulation in aquariums and terrariums. With its six powerful, individually adjustable channels, various LED bars such as the eco+, PRO², aquaLUMix, spotBEAM, and powerBEAM can be connected and controlled flexibly. The user interface is straightforward and intuitive. Moreover, pre-installed sample programs are available, allowing you to get started immediately without losing any valuable time. An exclusive and innovative device that combines functionality with user-friendliness. Ideal for those looking to provide their underwater or terrarium habitats with a true-to-life daylight simulation.
Unique Features
SmartControl: Optimal LED lifespan by never driving at maximum voltage.
SunRiser Algorithm: Smooth and jerk-free dimming.
Program directly on the device - no PC needed!
Assistant function for easy daily routine programming.
Compatibility with all our LED bars.
6 individually programmable channels for utmost flexibility.
Create specific lighting programs for each day of the week.
Why SunRiser 6?
The SunRiser 6 is not just a light controller; it's the heart of your aquarium. With its intelligent technology, it offers numerous advantages:
Stress Reduction for Your Fish: Sudden light changes can stress your fish. With the SunRiser 6, these abrupt transitions are eliminated, ensuring your fish remain relaxed and healthy.
Natural Experience: Create sunrises and sunsets that not only offer a close-to-nature feeling to your fish, but also to you. This enhances well-being and provides an impressive visual display.
Individualized Control: Whether it's moonlight, stormy moods, or a cloudy day, with the SunRiser 6, you can program and simulate a variety of scenarios.
Energy Efficiency: Save on electricity and prolong the life of your LEDs. A slight dimming can significantly reduce energy consumption without a noticeable decrease in brightness.
Supported by a range of light colors such as RED (dawn) or ROYAL BLUE (moonlight), and compatible with our aquaLUMix, powerBEAM, and spotBEAM series, the SunRiser 6 establishes an unparalleled and natural lighting ambiance for your aquarium.
New with SunRiser 6 (compared to the predecessor SunRiser 4)
6 channels (previously 4 channels)
240W maximum total connection power (previously 180W)
New function: Quickly adjust (decrease or increase) the light output of a program with just one click
Optimization and cleanup of the menu structure
Improved display lighting
Functions:
Time for switching on/off
Sunrise and sunset
Dim phase durations
Light output settings 0-100%
Each weekday can be separately and individually programmed as you require!
Periods of darkening (cloud cover, rainy day etc.)
Midday break with start time, duration, light output 0-100% as required
Maintenance function: Temporary full output for working on the aquarium
Functional test for each channel
Switch between summer and winter time
Software language: DE, EN, FR, NL, ES, CZ, IT, PL, SE, DK
Example of a full range of settings:
Channel 1: Sunrise and sunset, light colour RED or SUNSET
Channel 2: Main lighting, light colour: TROPIC, DAY or SKY etc.
Channel 3: Main lighting, light colour: POLAR, REEF or MARINE etc.
Channel 4: Moonlight, light colour: e.g. ROYAL BLUE
Channel 5: Pump for water cooling (or additional LED lighting)
Channel 6: CO2 solenoid valve (or further LED lighting)
Connecting third-party products
The SunRiser is also compatible with LED lighting from other manufacturers. This includes all lamps that operate with a voltage of 12-24VDC and are basically dimmable. No mixed operation! A compatible power supply for lighting is a fundamental prerequisite. See the adapter for connecting third-party products.
Technical data:
Dimensions LxWxH: 124x119x26mm
Input voltage: DC12V-24V
Total power max. 20A 240W/12V
per channel max. 5A 60W/12V
Scope of supply:
SunRiser 6

6 connection plugs with screw terminals

Connection / adapter cable with yellow plug for power supply
(If no power supply is ordered directly)
Operating instructions
Necessary equipment
To operate the complete lighting system requires one LED mains adapter, which you can find in our webshop.
A double assignment per channel is possible under consideration of the maximum connection power in total and per channel.
Not compatible with an LED splitter. The LED strips are connected directly to the controller!
The necessary plugs with screw terminal are already included in the scope of delivery.
Videos